Here is your special Ukrainian Gift!
Thank you for being our partner!
Ukrainian Cultural experience
video master-class
Create Pysanka – Ukrainian specially decorated Easter Egg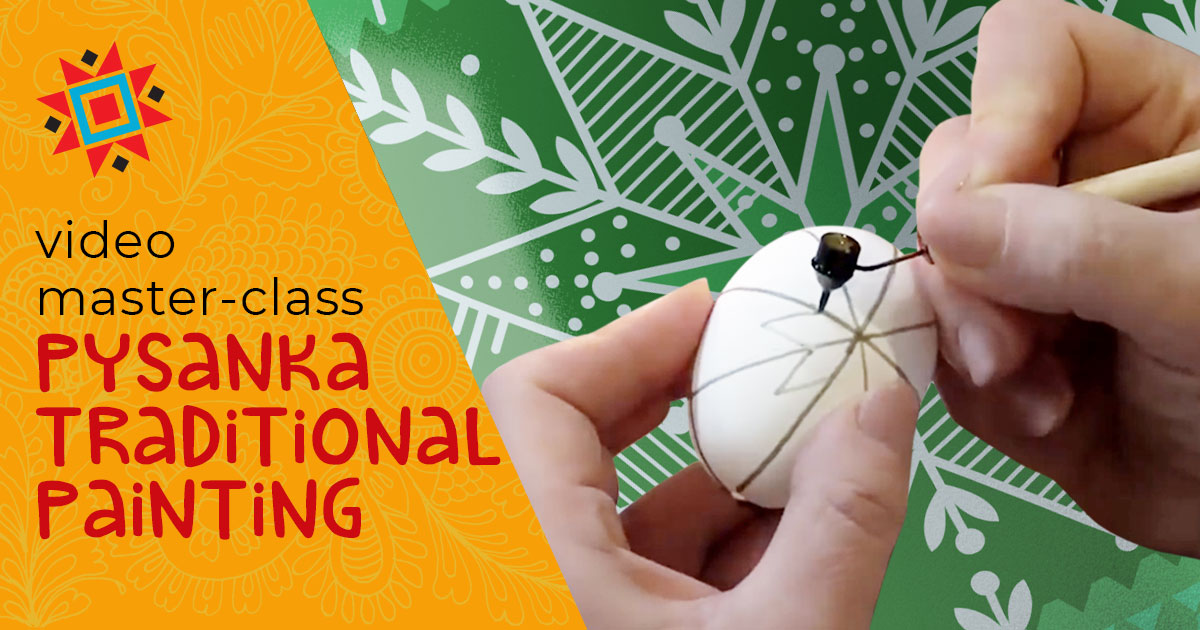 Unique Ukrainian technique of painting specially decorated souvenir Eggs, called Pysanka.
Historical and Cultural tradition, which we can deliver directly to your homes. In our online master-classes you will learn, how to create these exquisite souvenir eggs, which will become real piece of art and you can easily make it at your home by yourself.  And, as you know, painting is a good way to relieve stress, which we all experience now daily. Great Art-Therapy.
Pysanka is a folk art with ancient roots. It symbolized the rebirth of spring nature, warmth and victory of light over darkness. Masters use a variety of ornamental symbols and signs, archetypal symbols with different meanings, mostly about natural life: the Sun and the Moon, health, good and rich harvest etc. And reading the Egg is also a special science. Together with video-lesson you will receive master's explanations about some of the archaic symbols.
There are many ways to paint (more than 10). Here we prepared for you: way of painting wooden eggs in traditional style. Wooden eggs can be your kitchen decoration for long period.
During this master-class you will
learn new and unique Ukrainian technique of decorating eggs

make your own Pysanka: special Souvenir egg

relax as painting is great anti-stress

enjoy creative process
Your result after Master-class:

Pani Oksana Bilous is the master, who will teach you to create Pysanka (Easter Eggs) in our video master-classes
Oksana Bilous is a Ukrainian master of Easter egg painting, egg decoration, Honored Master of Folk Art of Ukraine, a member of the Union of Masters of Folk Art of Ukraine since 1994. Pani Oksana has started to create the first collection of traditional Easter Eggs of #Ukraine. In 2005-2008 she created a personal exhibition "The universe in my hands", which includes about 2,000 traditional folk Easter eggs from several collections of the late 19th century.
Ready for your Ukrainian Cultural Experience?
Here is your online lesson of creating Pysanka on wooden egg  
CREATE YOUR OWN PYSANKA
VIDEO MASTER-CLASS OF FAMOUS PYSANKA CRAFTS MASTER, OKSANA BILOUS
For this master-class you will need:
(please, look in nearby art-shop)
– wax pen (special traditional instrument for painting by wax)
– colored beeswax
– wooden egg
– white acrylic paint
– set of different colours of acrylic paints
OR
– a set of aniline dyes (yellow, red, green, black)
– paint brush  
– Inspiration
Enjoy your creative process with
Ukrainian Cultural Experience!
Stay safe! Stay healthy! Stay creative!
Hope to welcome you in Ukraine soon!